Volkswagen Surpasses Honda Safety Sense in Albuquerque NM
Honda Safety Sense in Albuquerque NM is a major component of the new car purchase, but Volkswagen takes it a step further. With Honda proudly announcing a variety of safety features found on its vehicles, Volkswagen kicks it up a notch with its own bundle of safety details. Sweetening the pot, Volkswagen throws in an impressive display of safety awards that solidify its presentation of some of the safest automobiles on the road.

The Honda Safety Sense in Albuquerque NM is a highly justified vehicle factor, but Volkswagen takes it a step further in their Tiguan. Six airbags surround the passengers to offer collision protection, although the vehicle features Forward Collision Warning technology. Adaptive Cruise Control further stacks the deck and strengthens the safety factor. Blind-Spot Monitoring with Cross-Traffic Alert is another safety feature that uses audible and visible alerts to inform the driver of a potential crash. Lane Assist maintains vehicular safety by alerting drivers should they drift out of their lane. Volkswagen's Intelligent Crash Response System technology outclasses Honda's safety enhancements with the ability to deploy airbags and unlock doors. Safe exiting from the vehicle is also communicated through this system. Automatic Post-Collision Braking System stops the vehicle should it be involved in an accident and ensure it does not cause further damage. With safety components and availability of this standard, the Tiguan proves to be a step ahead of the Honda CR-V.
Honda Safety Sense in Albuquerque NM Fails in Comparison
While the Honda CR-V is branded an economical vehicle that ensures passenger protection, Volkswagen and the Tiguan can claim a similar victory and prove it with a variety of safety awards. The Insurance Institute for Highway Safety blessed the Tiguan in 2020 with its highest safety award for headlight improvements. This included LED headlamps and the Adaptive Front-Lighting System. Impressive cornering headlights additionally facilitated earning the prestigious award. With smart thinking and a concentration on safety details, it will prove exciting to see how Volkswagen and the Tiguan will show off in the safety arena this year.
Innovative Technology
Honda Safety Sense in Albuquerque NM is not only exclusive to one model, and the same rings true for Volkswagen. Not satisfied to capture attention in the world of safety with an SUV alone, the auto manufacturer broke through the barriers in the four-door sedan market as well. Making the Arteon truly spectacular coming standard with a wealth of technology, Volkswagen used the same paint brush of safety on the car as it did with their SUV's. April 8, 2021 brought news of pride and joy to the automotive world. The Insurance Institute for Highway Safety declared the Arteon the recipient of the Top Safety Pick award. The Arteon further waits with anticipation as the National Highway Traffic Safety Administration prepares to release its crash test results. With the engineering and dedication poured into each of its vehicles, Volkswagen just displayed another example why its safety standards offer a larger shroud of protection for the driver and passengers.
Tech Safety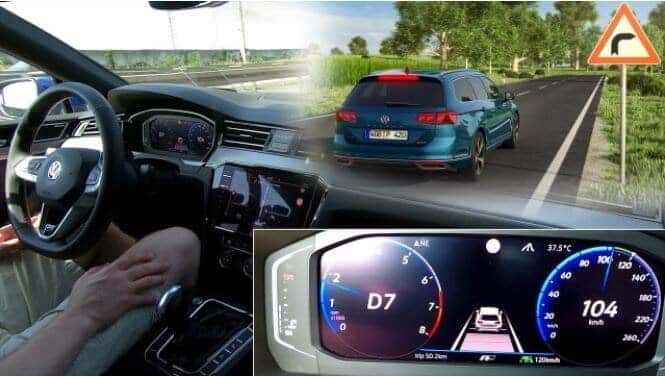 Emergency response and superior braking systems are crucial in the development of vehicular safety. Carrying just as much weight are the safety factors that are injected into a vehicle on the techy side. Volkswagen has furthered its lead in this area with Travel Assist. Partnering Adaptive Cruise Control with Lane Assist, Travel Assist provides the functionality to control the acceleration, braking and steering to provide a partially automatic driving experience. All is possible through the ginger touch of a button located on the steering wheel. This feature is only offered on certain Volkswagens of choice. To learn which models come equipped with Travel Assist and a plethora of additional safety features, contact Fiesta Volkswagen at 8201 Lomas Blvd NE Albuquerque NM 87110.