The 2022 Volkswagen Taos near Las Cruces NM Excites the SUV Market
The 2022 Volkswagen Taos near Las Cruces NM has entered the scene and shaken up the automotive world. With fire and fight, the compact SUV market has been forever changed by Volkswagen. Excess power and advanced technology adorn the Taos leaving it far more appealing than its competitors. In all other facets, including interior space and luxurious accommodations, the Taos still steals the show.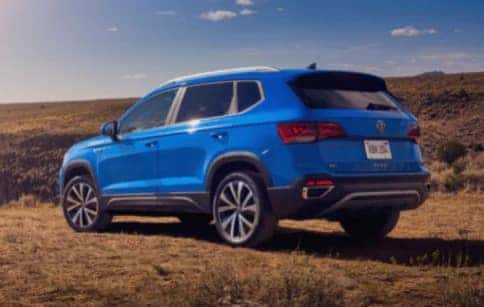 The 2022 Volkswagen Taos near Las Cruces NM features an illuminated grille that is flanked on each side with LED headlights that highlight the road ahead. Remaining true to form, the Taos features the same LED technology in the rear taillights. Supporting all of its engineering and envious features, the Taos rests upon 19-inch alloy wheels that features an exciting design and finish. For those drivers of a more pampered lifestyle, this compact SUV features another welcomed surprise. Rain-sensing windshield wipers are available. Approaching inclement weather is a breeze while the driver can keep both hands on the wheel and Taos takes care of everything else. The Taos thrives in delivering its passengers to exciting and interesting destinations. Providing a unique experience in getting there is a main concern, so the Taos comes outfitted with a panoramic sunroof that provides an abundance of natural light. Missing the sites while travelling is not an option.
2022 Volkswagen Taos near Las Cruces NM: Performance
The Taos might not stand as tall as the Tahoe, but it packs enough power to give any vehicle a run for its money. Outfitted with a 1.5-liter turbocharged four-cylinder engine, the Taos provides an impressive 158-horsepower and 184 pounds-feet of torque. Control of the Taos' power is managed through an eight-speed automatic transmission and front-wheel drive. A sportier feel is found with the all-wheel drive package partnered with a seven-speed dual-clutch transmission. Volkswagen considered all driving personalities when designing this compact bundle of automotive ingenuity. No matter the trim selected, the Taos offers something special at every turn.
It is no secret that Volkswagen prides their vehicle designs based on an important level of safety. Applying a fine-tuning stroke, safety is enhanced wherever the opportunity presents itself. This could not be truer with the Volkswagen Digital Cockpit. Instead of taking their eyes off of the road ahead, drivers can simply glance at the instrument panel for more than just fuel efficiency and speed. Now a high-resolution version of various important driving factors can be presented. Travel time is provided along with route guidance. Drivers no longer need to take their eyes from the road and glance towards the center of the vehicle. All important information can be processed within the same view of the open road. This technology brings a whole new meaning to the term driver assistance.
Power in the Palm of Your Hand
While we live in an age where virtually all commands can be administered through the power of a cell phone, Volkswagen jumps on the bandwagon with Car-Net. This mobile app provides command of your Taos or any other Volkswagen for that matter. Remote access allows the driver to not only start the engine, but also lock and unlock the doors as needed. Additionally, the capability to honk the horn and activate the lights is possible through the simple touch of a button. Taking it a step further, Car-Net can be paired with Alexa, so if the Volkswagen driving thrill has depleted you of physical ability, just tell Alexa what to do and she will handle all important business. Family Guardian Alerts is a grand feature supplied through Car-Net and allows boundaries, speed and even curfew to be set for those younger passengers that Volkswagen parents worry about. Adding the finishing touch, Car-Net pairs with Parokopedia making the search for a parking space a welcomed event. To find out how the compact Taos encompasses all of those big Volkswagen features, contact Fiesta VW at 8201 Lomas Blvd NE Albuquerque, NM 87110.