View the Simple and Stylish 2021 Volkswagen Passat near Las Cruces
With its impressive collection of driver assist features, safety technology, and loads of space, the 2021 Volkswagen Passat near Las Cruces NM is a pleasure to drive and is a true leader in family friendly comfort. A midsize sedan that delivers a smooth, comfortable ride and enough room to relax, the Passat has a simple yet stylish design. It's perfect for your daily commute or taking the family on a well-deserved vacation.
You'll be surprised at how much traveling you can do in the Passat on just one tank of gas. The EPA gives an estimated 24 city and 36 highway MPG, and with an 18 ½ gallon fuel tank that means fewer stops at the pump, especially when you're making a road trip. Besides the efficient fuel consumption, the VW Passat comes standard with a 2.0 liter Turbo TSI® 4-cylinder engine that puts out up to 174 hp and 206 lb-ft of torque to boost you forward with its 6-speed automatic transmission. With Sport Mode and Tiptronic® paddle shifters, you can choose to shift manually without an actual clutch.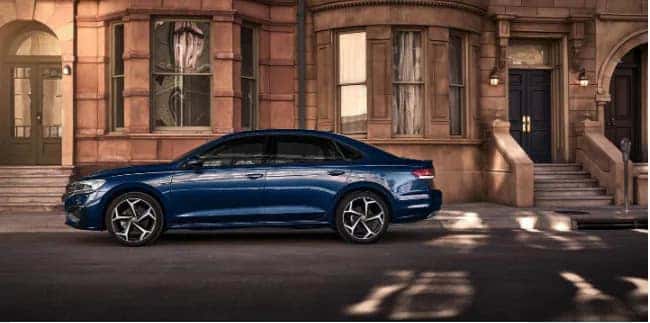 2021 Volkswagen Passat near Las Cruces NM: Refresh
The previous year's model received a mid-cycle "refresh" which gave the Passat a more sloping, coupe-like profile, crisper lines, and a new front-end design. LED headlights, a new grille with more chrome, and a more sculpted rear end elevate the appeal of the new Passat. Compared to rival sedans, the 2021 Volkswagen Passat is attractive in an understated, very conservative way. For the 2021 model year there are no really big changes, just some updates to trim levels. 
The Passat S got a leather covered steering wheel, emergency brake handle, and gear shifter. The Passat SE, the midlevel trim, received a sunroof as standard equipment and 18-inch alloy wheels. The SEL trim is now discontinued, leaving the R-Line as the highest trim, which now comes standard with a Fender Premium Audio system, navigation, and swiveling adaptive headlights that point into corners.
Getting comfortable inside the 2021 Volkswagen Passat near Las Cruces NM has never been easier, with 102 cubic feet of passenger space that supplies seating for five. There's ample room for passengers in both front and rear seats, even tall ones with long legs won't feel cramped. And the trunk is enormous, allowing plenty of room for suitcases and gear. 
Along with the spaciousness, the interior of the VW Passat is quite stylish, and although some may say a tad conservative, it's actually on the elegant side. Clean lines and premium materials are used, and a new driver-oriented cockpit design keeps everything within the driver's reach. The seats are snug and cozy, and the driver's seat is height adjustable, making it a cinch for any driver to get in the best position for maximum comfort and road visibility.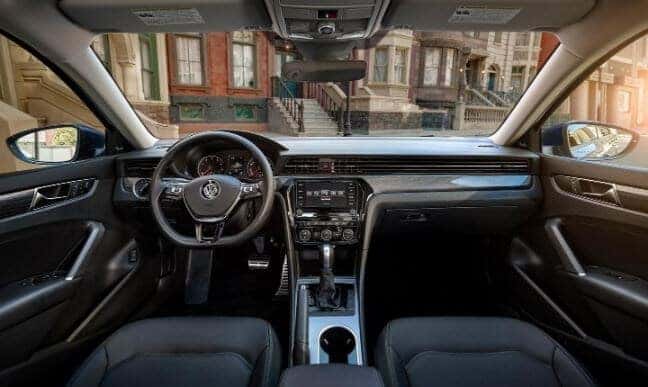 Multiple safety and driver assist features are included in the 2021 Volkswagen Passat near Las Cruces NM. Across all trims you'll get Forward Collision Warning, Rear Traffic Alert, Blind Spot Monitoring, and more. The safety cage underpinnings of the Passat include front and rear energy-absorbing crumple zones that offer even more peace of mind, along with the six airbags, including side curtains that cover both seating rows.
With its spacious interior, good fuel economy, and range of safety options, the VW Passat is an excellent midsized sedan for all types of drivers. If you'd like to learn more or take a Passat for a test drive, visit Fiesta Volkswagen at 8201 Lomas Blvd NE in Albuquerque today!