The 2022 Volkswagen Golf R in Albuquerque NM is Morphing into a New Generation
Without a doubt, the most exciting news of the 2022 Volkswagen Golf R in Albuquerque NM has to be the latest choices in design. Available as a regular hatchback and an edgy wagon, the Golf R prides itself on offering something for all driving personalities. While the names are still pending on the intriguing wagon variation, certainty lies in its unavailability in the United States.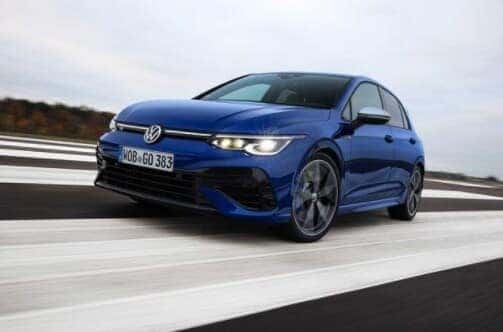 The 2022 Volkswagen Golf R in Albuquerque NM finds itself turbocharged with a 2-liter inline 4-cylinder engine. Designed for fuel efficiency, this power unit delivers an impressive 315-horsepower. This is a step up from the previous 288-horsepower. Vehicle control is offered in a six-speed manual or a seven-speed dual clutch automatic transmission. Enhanced handling is commanded through an all-wheel-drive-system that includes a rear differential distributing torque between the left and right wheels. Understanding that driving conditions and styles can vary, the Golf R addresses this notion with selectable diving modes. Comforts, Sport, Race, Special, Drift, and Individual are all available choices. Stationed atop performance minded 19-inch wheels, the Golf R comes standard with a sport exhaust system, larger front brakes, and a variable-ratio steering system. Golf R truly offers an exhilarating experience of sport driving with its performance and power options.
2022 Volkswagen Golf R in Albuquerque NM: Safe Driving Experience
The Golf R delivers on all fronts, including safety. Focus in this area is directed to driver assist technology. Blind-spot monitoring and lane-keeping availability will be key features. Additionally, the Golf R will come full circle with standard forward-collision warning and automated emergency braking. Standard lane-departure and rear cross-traffic alert functionality add to the recipe of success. With proactive safety features like these, drivers and passengers are as snug as a bug in a rug when it comes to Golf R transport.
Serving has a huge focal point, the 2022 Volkswagen Golf R in Albuquerque NM comes available with a 10-inch touchscreen located at direct center of the intuitive dashboard system. Control is distributed through slider controls activated by simple touch. Auditory pleasantries will be provided by an impressive Harman/Kardon premium stereo system. In addition to ample charging ports and possibilities, the Golf R will come equipped with Apple CarPlay and Android Auto connectivity. Sealing the deal, a wi-fi hotspot found within the vehicle keeps the driver and passengers connected guaranteeing they will not miss a thing.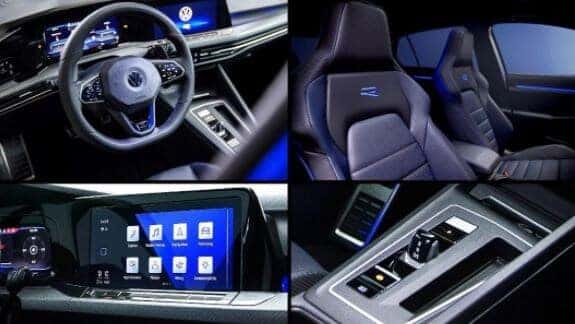 The Golf R displays a stylish interior that promotes an exciting driving experience. Offering several different variations, the 10.2-inch digital gauge layout is configurable. Drivers can pick drive modes as well as dash layout in congruence with mood. Providing maximum control, the Golf R offers a thick steering wheel for inviting hand placement. Capturing the body in ergonomic bliss, the nappa leather wrapped seat option creates an illusion of driving from a favorite living room recliner. Continuing the concentration on driver personalities, interior lighting features an abundance of color possibilities, 30 to be exact. Equal attention was given to space as the Golf R invites interior population. Spacious leg room is found in the front seats with equal attention given to rear seated passengers. Planning for maximum capacity and long drives, the Golf R includes a spacious trunk for an array of cargo transport. Completing the Golf R's showcase of style, a carbon fiber dashboard trim adorns the interior. To learn more of the highly anticipated Golf R arrival, contact Fiesta Volkswagen at 8201 Lomas Blvd NE Albuquerque NM 87110.