The 2021 Volkswagen Jetta near Rio Rancho NM Gets Great Gas Mileage
Having undergone a redesign for the 2019 model year, the 2021 VW Jetta keeps its fresh look and remains an exceptional value in the compact sedan segment. It offers a subdued exterior personality with a high-tech interior, and with its fuel efficiency rating at 34 mpg combined it's one of the most economical gas-powered small sedans you'll find. The EPA rates the Jetta at 30 mpg city and 40 mpg highway, and the Jetta GLI rates 25/32/28 mpg for city/highway/combined.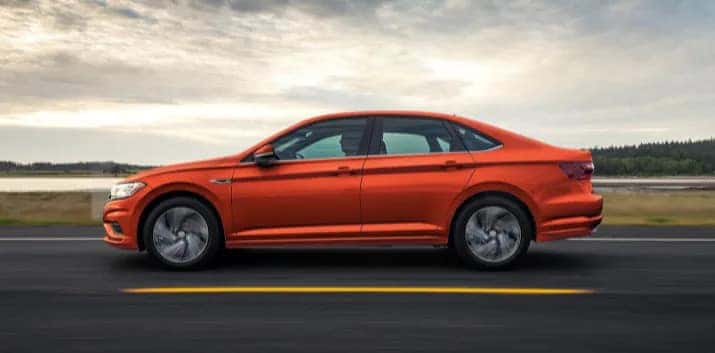 The front-wheel drive 2021 VW Jetta near Rio Rancho NM comes standard with a 1.4 liter turbocharged 4-cylinder engine paired with a 6-speed manual transmission and puts out 147 horsepower. This may not seem like much but with the 184 ft-lbs of torque, you'll be able to accelerate easily and quickly. Even though the stick shift comes as standard equipment, almost all of the Jetta vehicles manufactured at the VW assembly facility in Mexico are fitted with the 8-speed automatic.
Thanks to its great fuel economy, the base model Jetta S is highly recommended as a commuter car. And whether you're on a budget or not, the starting price of under $19 K is a fantastic value. However, not everyone will be satisfied with the base model, or even the higher SE, R-Line, SEL, and SEL Premium models, which are all equipped with the 1.4-liter mill. For drivers who want more power, there's the Jetta GLI model, which is brawnier with a turbo-4 that delivers 228 hp and 258 lb-ft of torque. No matter which you choose, the VW Jetta will provide you with a smooth and refined ride, much like the feel of a more expensive, premium sedan.
2021 VW Jetta near Rio Rancho NM: Interior
Bumpy streets and rough roads are taken in stride when you're behind the wheel of the Jetta, and handling is quite good, especially in city traffic. Getting out of tight spots is a piece of cake, and you can take a corner confidently, even at a mid-speed. With the GLI version, you'll experience even sharper handling. The steering is light and effortless, and the cabin provides a quiet and serene ride.
Five adults can fit comfortably in the 2021 VW Jetta near Rio Rancho NM because there's an abundance of head- and legroom in both front and rear seats. The Jetta is actually one of the most spacious cars in the segment, with legroom in the back being especially notable.