The 2021 Volkswagen Arteon near Rio Rancho NM Feels Like a Crossover
It's been said that one of the reasons for the SUV and crossover craze is that drivers supposedly prefer a higher vantage point with better visibility; the "command seating" trend, so to speak. While it's true that visibility is good when you're seated up high, everything feels good when you're in command of something low to the ground. And that's how the 2021 Volkswagen Arteon near Rio Rancho NM will feel when you're behind the wheel.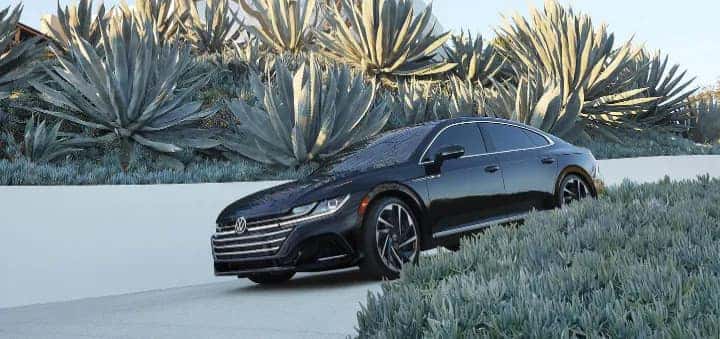 Driving a car that's low to the ground makes you feel like you're a part of the vehicle, you're more in control, more engaged, more confident. Cars have lower centers of gravity, making them much more fun to drive than their taller SUV and crossover cousins. And although the VW Arteon isn't a sports car, it is a sedan that feels more like a coupe, and with its low and wide stance, it drives like a coupe.
It has a turbocharged 2.0 liter inline 4-cylinder engine under the hood that delivers a decent 268 hp and 258 lb-ft of torque, and although it may not be a quarter mile champion, it's by no means slow. The 2021 Volkswagen Arteon near Rio Rancho NM was designed to be a quick, comfortable, and spacious daily-driving and road-tripping car, which it pulls off nicely. 
You'll enjoy the 8-speed automatic transmission that can also be driven like a manual, albeit with paddle shifters located on the steering wheel rather than a stick. The steering itself is precise and responsive and with the available 4Motion all-wheel drive, along with its low center of gravity, the Arteon boasts superior grip even on wet, slippery pavement.
2021 Volkswagen Arteon near Rio Rancho NM: Interior
Inside the five passenger Arteon you'll find lots of room, especially in the back. The rear seats are very comfortable and there's a substantial amount of leg room, making the dread of long road trips obsolete. Passengers in the back are treated to heated seats and a separate climate-control center. The middle rear seat back folds into an armrest with integrated cup holders, which has a pass-through panel behind it. The rear seat also folds down with a 60/40 split, making a huge area of the already large trunk space beneath the fastback.
Behind the back seats, with them in the up position, there's over 27 cubic feet of space, which is more than many popular crossovers. With the seats folded down, the space opens up to over 56 cubic feet. And thanks to the deep yet wide layout of the trunk, it's easier to load stuff without stacking it. If you thought you needed an SUV for more cargo room, you were wrong! With a large hatch like this one, you'll do just fine!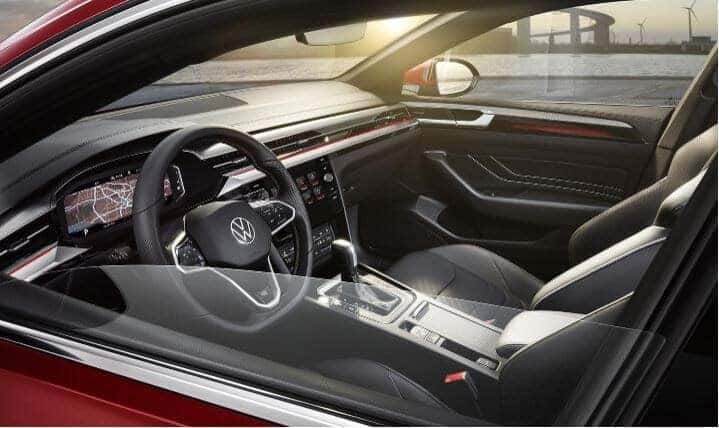 Moving into the front of the cabin, the 2021 Volkswagen Arteon near Rio Rancho NM received a refresh for this model year, with a redesigned dash that's very similar to the Audi A7. It has an updated infotainment system, with an 8-inch touchscreen and faster software, and a fully touch-controlled interface for audio and climate buttons. It also now supports wireless Apple CarPlay and Android Auto and has a now fully LCD instrument cluster. A full suite of driver assist features is available and many of them come standard, even on the lowest trim.
To fully appreciate this sleek and stunning opposition to the all too common crossover or SUV pick, visit Fiesta Volkswagen at 8201 Lomas Blvd NE in Albuquerque.