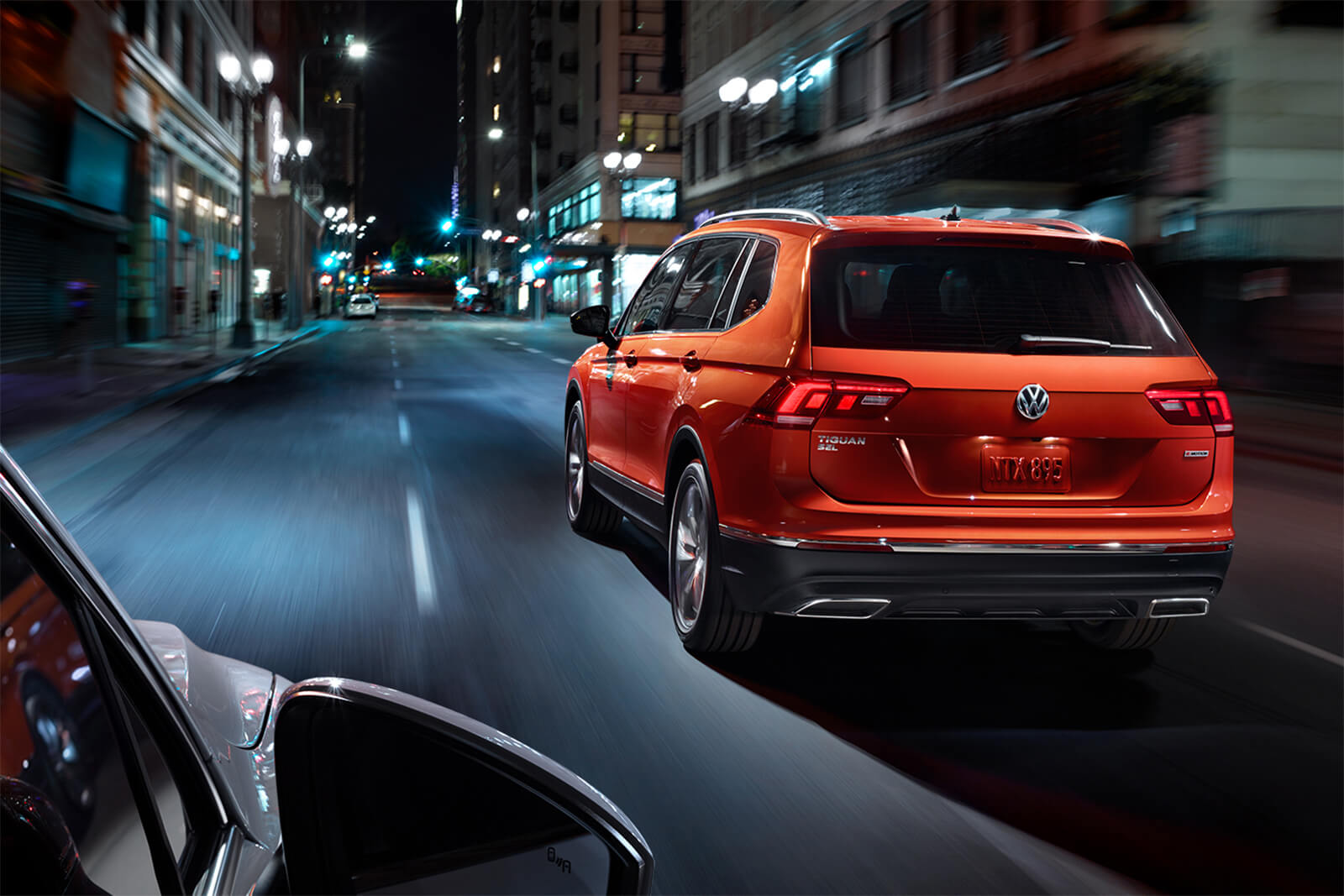 The
2020 Volkswagen Tiguan near Las Cruces NM
maintains its winning formula to offer one of the most well-rounded crossover SUVs today. This vehicle doesn't depend on trends for appeal - instead, it retains its confident styling, spacious interiors, and assured performance to stay at the top of its class. The addition of state-of-the-art safety technology makes it a more attractive package for this model year. For a stress-free crossover that can take you from daily commute to weekend getaway, the 2020 Volkswagen Tiguan is a choice you won't regret.
Diverse Feature Options
The 2020 Volkswagen Tiguan near Las Cruces NM lets you choose from five trims, each of which has its own set of comfort and convenience equipment. While this crossover only comes with one powertrain option, selecting trims is more about your driving style.
Trim levels are divided into S, SE, SE R-Line Black, SEL, and SEL Premium R-Line. The SE model adds keyless access, a large 8-inch infotainment screen, and heated leatherette seats to the base S. Jump to the SEL and you get more luxurious features such as a panoramic sunroof, Adaptive Cruise Control, power liftgate, remote start, and more. To make your SUV ready for all weather conditions, go for the All-Wheel 
Drive system that's optional on every trim. Need to haul a big family? You can also upgrade the 2020 Volkswagen Tiguan to a seven-seater SUV.
2020 Volkswagen Tiguan near Las Cruces, NM: Outstanding Fuel Efficiency
Unlike many of its rivals, the 2020 Volkswagen Tiguan is thrifty on fuel. Both the AWD and FWD models exceed their EPA ratings to deliver real-world figures of 33 mpg and 32 mpg city and highway. This is on par with, if not better than, many of its competition, making the latest Volkswagen Tiguan one of the most fuel efficient three-row SUVs on the market. This means you can drive longer without having to stop and spend more on gas.
Assured Performance
The 2020 Volkswagen Tiguan near Las Cruces NM may be a large three-row crossover, but its car-like dynamics are sure to please any driver. Under the hood is a turbocharged four-cylinder engine that produces 184 horsepower. The Tiguan remains compliant and comfortable even over bumpy pavement, and it responds easily to driver input. The available All-Wheel Drive gives you greater control under harsh weather conditions. Overall, driving the 2020 Tiguan is a pleasant experience whether you're navigating through traffic or taking the family on a vacation across the country.
Classic Interiors
Expect a cabin that's quintessentially Volkswagen in the 2020 Tiguan. Above all, this SUV focuses on simplicity and function. The Tiguan is the only crossover in its class that can be configured with a third row, but it also remains one of the most spacious. Cargo capacity can be expanded by folding down the rear rows to fit sports equipment, luggage, or pets.
Complementing this minimalistic approach is a wealth of infotainment and connectivity features. Volkswagen's exclusive infotainment system, Car-Net, is intuitive, and you can control it through a huge touchscreen. Stay online with the standard Wi-Fi hotspot, and use your device through Android Auto and Apple CarPlay capabilities. For music lovers, the SEL Premium trim offers a 480-watt nine-speaker Fender audio system for an incredible music experience on the road.
Finally, the 2020 Volkswagen Tiguan near Las Cruces NM leads the way when it comes to safety. Standard safety tech includes Blind Spot Monitoring and Automated Emergency Braking, with available upgrades like Adaptive Cruise Control. 
Are you ready to meet your next SUV? Come in and test drive the 2020 Volkswagen Tiguan. We know you'll fall in love.