Achieving Driving Excellence in the 2021 Volkswagen Arteon near Las Cruces NM
Turning heads, the 2021 Volkswagen Arteon near Las Cruces NM parades as another sedan but it teases with its hatchback rear design. Offering resort like accommodations in a racy exterior with sharp edges, the Arteon stands ready to compete in the family and luxurious markets. Fit with a spicy 4-cylinder engine, the Arteon offers modest power that is more than necessary to carry it any location of choice.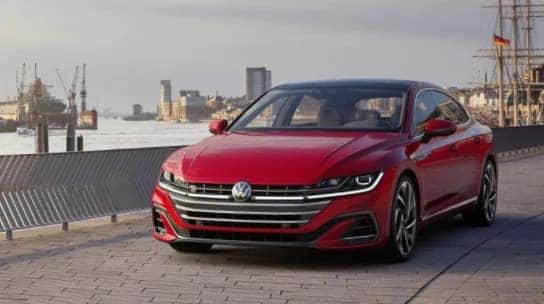 Like Christmas morning, the 
2021 Volkswagen Arteon near Las Cruces NM
 comes available with novel features to kick off the new year. Branded with a new company logo, the Arteon finds itself carrying a new front bumper on an all-new wheel design. An addition of color options paints a new look. All Arteon models are now available in Kings Red Metallic while its feisty R-line adds Oryx White and Lapiz Blue to the color wheel. Displaying equality throughout, Arteon's interior received attention of its own with redesigned elements. Arteon's steering wheel is now bigger and allows drivers ease in holding on while handling these new attributes. More elaborate climate vents support an adult like presence while touch sensitive climate controls add to the elegance. Ambient interior lighting creates a relaxing mood while Arteon's new digital gauge cluster creates a racing persona. Capping off improvements is the progress made in infotainment software, touchscreen and wireless Apple CarPlay and Android Auto compatibility.
2021 Volkswagen Arteon near Las Cruces NM: Under the Hood
An eight-speed automatic transmission paired with a turbocharged 2.0-liter engine finds 60mph in 6.1 seconds. The 268 horsepower of get up and go comes available in front wheel and an optional all-wheel drive setup. Either way, drivers enjoy a whopping 258 lbs.-ft of torque. Arteon offers additional pleasantries with appreciated fuel efficiency. City driving yields 22 miles per gallon while the wallet falls in love with the 32 miles per gallon accomplished on the highway. 
The 2021 Volkswagen Arteon near Las Cruces NM redefines simplicity with three packages. Starting at $36,995, the SE is the more economical of the three. Enthusiasts find the middle of the road in amenities and cost with the Arteon's SEL R-Line. Starting with an aggressive front end, middle of the road features includes a more attractive bumper and grille complete with a light bar. Moving inside, the Arteon SEL R is equipped with wireless charging. Safety upgrades are also offered with lane keeping assist and traffic sign recognition. If these features fail to close the deal, buyers can step up to the SEL Premium R-line where a whole other world of features are available.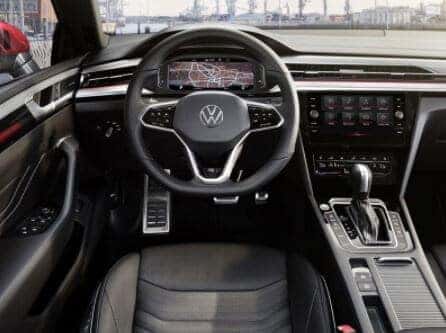 Arteon's interior offers a combination of comfort and technology. In addition to a comfort fit, the steering wheel offers feature controls for driver convenience. The dashboard is ergonomically friendly with its large diagnostic display and touchscreen of apps. Plush seats offered in the finest materials invite passengers to a spa like treatment of enjoyment. Arteon spares no expense when it comes to the tiniest details. Even the gear shifter is trimmed in an attractive leather boot that invites the hand to shift the vehicle into adventure. Spacious seating is available throughout and allows for comfortable long rides. Interior striping and accents finish off an offering of style and grace. A moonroof is also available to solidify an aggressive yet refined driving experience. No matter the destination, Arteon delivers its passengers in class and grace. Buyers can remain confident in the Arteon's ability to offer lavish features in a splendid design of engineering technology. If seeing is believing, contact Fiesta Volkswagen at 8201 Lomas Blvd NE Albuquerque NM 87110 to schedule a test drive.